École Centrale Engineering Program
Editorial from Lionel Gabet, Director of Teaching Implementation
Preparing highly skilled scientific and technical leaders, entrepreneurs and innovators is the CentraleSupélec objective: an exceptional ambition, shared by all École Centrale Engineering program graduates.
The CentraleSupélec teaching project continues the tradition of excellence, combining scientific and technical developments with innovation and corporate spirit.

This excellence can be found at the heart of all the programs we offer: the École Centrale Engineering program, Specialized Master's, Master's programs and Doctoral School. From the very beginning, the school has been involved in the scientific and economic world, maintaining a large network of active partners and worldwide universities.

 
The school has developed the École Centrale Engineering program to:
make you a highly skilled scientific and technical engineer;
help you to develop a leadership, entrepreneurial and innovative spirit and skills;
prepare you to face the world and major societal issues with a strong ability to adapt; and
enable you to navigate the social and multicultural environment within a company.
Competitive entrance exam and admission requirements
The educational program at the school requires engineering students who already have a strong work ethic and cultivate rigor, logic, abstract thinking and intellectual agility.
This is why CentraleSupélec recruitment is mainly undertaken via a competitive entrance exam based on the Preparatory Classes program.

For the École Centrale Engineering program, 390 places are open via the CentraleSupélec competitive entrance exam (350 for French students, 20 for international students in Preparatory Classes in France and 20 for international students in Preparatory Classes abroad).
This route is completed by other competitive entrance qualification rankings and exams. A total of 150 places are open for other streams, university bridging programs and specific recruitment for foreigners.
CONTACTS
Admissions
Téléphone : +33 (0)1 41 13 11 29
Fax : +33 (0)1 41 13 15 13
E-mail : admissions@ecp.fr
CentraleSupélec competitive entrance exam
Téléphone : +33 (0)1 41 13 11 29
Fax : +33 (0)1 41 13 15 13
E-mail : contact@concours-centrale-supelec.fr
Competitive entrance exam for Preparatory Classes
Students selected from the competitive entrance exam are admitted as engineering students.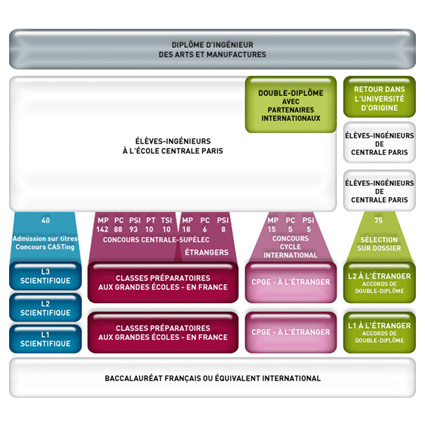 This competitive entrance exam is based on the Preparatory Classes in scientific Grandes Écoles. The level equates to a minimum of two years of preparation after the Baccalaureate. This preparation is generally completed in Preparatory Classes for Scientific Grandes Écoles offered in French secondary schools.
CentraleSupélec competitive entrance exam for foreigners
Only candidates not holding French nationality on the closure date for registration and who are completing Preparatory Classes in France may apply. Candidates from the CentraleSupélec or Institut d'Optique Graduate School international competitive entrance exams will be admitted to the 1st year as intern-students and will be given the title of student engineer if they are accepted for the 2nd year. Intern-students cannot repeat a year of study, except in exceptional circumstances.
Places offered:
18 places in the Mathematics and Physics program
6 places in the Physics and Chemistry program
8 places in the Physical and Engineering Sciences program
International competitive entrance exam: Only candidates not holding French nationality on the closure date for registration who have not been in higher education in France, and who are put forward by an institution in liaison with the French Embassy, in the Ivory Coast, Gabon, Lebanon, Morocco or Tunisia, may register.
Candidates cannot register for both the international program and another access route for the Écoles Centrales, CentraleSupélec or Institut d'Optique Graduate School. Candidates registered in the international program or École Centrale Casablanca competitive entrance exam cannot obtain admission to the École Centrale via the CNC of Morocco.
International program
Admission to the international program is open to foreign candidates who have completed 2-3 years of university studies after obtaining a foreign equivalent to the French Baccalaureate and have not pursued higher education in France. Seventy-five places are open for this type of recruitment. It is via this program that intern-students may pursue a T.I.M.E. double degree or a double degree with universities of developing countries
University stream
Who can apply?
Economic Sciences degree graduates wishing to pursue engineering may be accepted to the first year of one of the five Écoles Centrales.
Holders of foreign equivalent degrees may apply under the same conditions.
These routes of access to the École Centrale Group aim to accept candidates who have completed a rounded university program, with rare exceptions granted by the jury (e.g.: long-term illness). Consequently, candidates who have completed Preparatory Classes in Grandes Écoles will not be selected except in exceptional circumstances reviewed by the jury.
CASTIng = École Centrale Competitive Entrance Examination for an Engineering Title
To simplify access procedures for all Economic Sciences degree students, a single examination series in one location is planned. Any graduate with a non-specialized scientific degree may present themselves to the CASTing, École Centrale Competitive Entrance Examination for an Engineering Title.
Feeder universities of students selected
Students selected for the École Centrale Engineering program via CASTing come from many universities throughout France, including Université Paris 1 Panthéon-Sorbonne, Paris Descartes University, Pierre and Marie Curie University (UPMC), Université Paris Diderot, Université Paris-Dauphine, Paris-Sud University, University of Cergy-Pontoise (UCP), Université de Versailles Saint-Quentin-en-Yvelines (UVSQ), and the universities of Toulouse, Bordeaux, Marseille/Avignon, Lyon, Grenoble, Nice, Lille, Nancy/Metz, Nantes and Brittany.
Key dates
January 31, 2017: opening of provisional online registration on the official CASTing competitive entrance examination website
April 14, 2017: closing of provisional online registration
April 18, 2017: Applications [paper version] must be received no later than this date, as proven per the postmark.

CASTing Competitive Entrance Examination - École Centrale Lille (see the address below)
 

May 15, 2017: admissions jury - Publication of results following admissions jury deliberation
June 15, 2017: competitive entrance exam in École Centrale Lille and jury deliberation, followed by results reporting
Postal address and location of competitive entrance exams:
École Centrale Lille
Recrutement CASTing
Cité Scientifique - CS20048
59651 Villeneuve d'Ascq Cedex
France
Tel.: +33 (0)3 20 33 53 53
Fax: +33 (0)3 20 33 54 99
Website : http://casting.ecolescentrales.fr/
Admission
The admission procedure includes two stages:
Provisional selection by application
Entrance examinations:

a written science exam
an oral science exam
an interview
The interview will assess each candidate's motivation and professional goals.
The two science exams, chosen among Mathematics, Physics and Mechanics, will be determined by the pre-selection committee according to the program of each pre-selected candidate. Programs will be communicated one month prior to the exam.
The jury, composed of representatives of the five mainland France Écoles Centrales, will assess the candidate's overall results. The jury has the final word.
Students who successfully pass the competitive entrance exams and interview will be allocated to schools according to the choices they present in their applications and their competitive entrance exam results.
CONTACT
Erick Herbin
Director of CASTing, École Centrale Engineering program
Téléphone : +33 (0)1 41 13 18 90
Courriel : erick.herbin@centralesupelec.fr
Program strengths
Core elements of the program
8-25 months working within a company
6 months minimum spent abroad (typically 12 months)
Mandatory 2 modern languages
Work in project mode
3rd year structure: 8 options and 6 streams
Optional:

Research track
Apprenticeship-based track
Entrepreneurship track
Data Sciences track
Digital track
THE 4 MAJOR AREAS OF TEACHING:
THE SCIENCES
Developing a strong scientific and technical culture in a complex international environment
Mathematics, Physics, IT Sciences – and engineering technologies – Energetics, Processes, Mechanics and Industrial Engineering are the founding disciplines of the multidisciplinary scientific excellence of future École Centrale Engineering program graduates. This scientific excellence enables them to design innovative product and service systems in a complex and competitive international environment.
BUSINESS
Learning to lead and manage projects in their social, human and multicultural contexts
Throughout the program, student engineers develop their knowledge of company operations, along with their abilities to create, lead, develop and improve the business. They acquire skills to invent, design, develop, sell, distribute and recycle products and services with significant added value, meeting the needs of consumers from all countries.
THE WORLD
Addressing the major issues of the 21st century through action, commitment and social responsibility.
In order to address the major issues of the 21st century through action, commitment and social responsibility, the school raises awareness in its students (through conferences, visits and research projects) about seven of the most important scientific, economic and societal issues the world is facing today: the environment, transportation, urbanization, health and biotechnology, energy, the economy and finance, and information.
PROFESSIONAL DEVELOPMENT
Becoming influential men and women, international leaders, entrepreneurs and innovators
Over the course of professional development workshops in innovative teaching tools, as well as career streams, students develop their engineering skills: working in multicultural teams, communication, organization, leadership, being able to adopt a global perspective, etc. as well as developing their own professional project.
Contacts
École Centrale Engineering Program Director
Guillaume Puel – guillaume.puel@centralesupelec.fr
Teaching support and Information and Communication Technology for Teaching: Lionel Husson - lionel.husson@centralesupelec.fr  
To download
Program detail
Build your own personalized program
 

Three programs delivering the École Centrale Engineering degree

 

Three programs delivering a double-degree: École Centrale Engineer + international partner university diploma

S5

École Centrale Engineering program

 

 

École Centrale Engineering program

S6

École Centrale Engineering program

 

École Centrale Engineering program

 

Operator Internship

 

Operator Internship

S7

École Centrale Engineering program

 

École Centrale Engineering program

S8

International university placement

International company internship

International university placement or company internship

 

École Centrale Engineering program

S9

École Centrale Engineering program

École Centrale Engineering program

Gap year

 

International double-degree

International double-degree

Company internship

S10

 

 

 

with internship integrated in the program

without internship integrated in the program

Company internship

 

 

 

 

Company internship

Company internship

S11

 

 

École Centrale Engineering program

 

 

 

 

S12

 

 

École Centrale Engineering program

 

Company internship

Company internship

International double-degree without internship integrated in the program

 

S13

 

 

Company internship

 

 

 

 

 

 

 

 

 

 

 

 

 

 

Company internship
Or develop your own unique program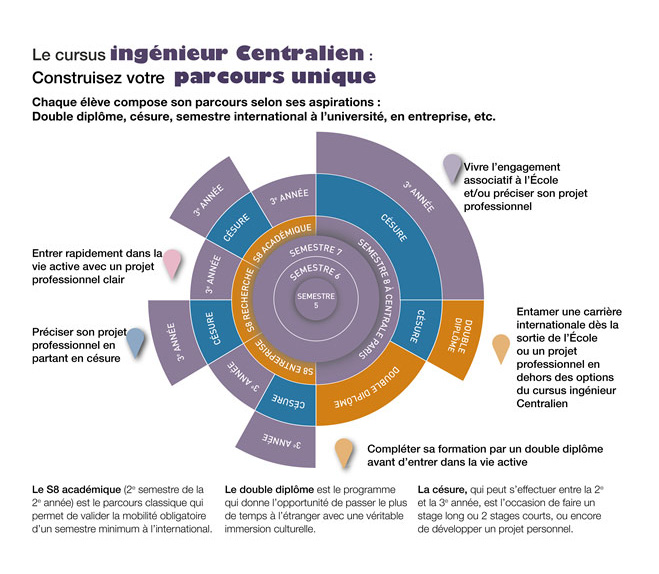 1st year
Semesters 5 and 6
To enable each student engineer to follow a program that best matches their career aspirations while still receiving the École Centrale hallmark general and rounded education, the École Centrale Engineering program offers an excellent general course.
The common core
A shared syllabus is taught over the first two semesters on the Châtenay-Malabry campus. This common core provides students with the skills that are essential for all École Centrale Engineering program graduates.
The syllabus covers five main fields :
Engineering Sciences (Thermal Transfer, Mechanics, Applied Thermodynamics, etc.),
Matter and Living Sciences (Quantum and Static Physics, Biology, etc.),
Business Sciences (Business Finance, Industrial Engineering, Project Management, etc.),
Mathematics and Information Sciences (Probabilities, Embedded Systems, Simulation / Optimization, etc.),
Human and Social Sciences (Cultural Openness, Philosophy of Science, etc.).
Furthermore, an initial experience of working in teams is provided via the Issues project, which runs throughout the first year and is launched during the Issues conferences in September.
Détails des enseignements par département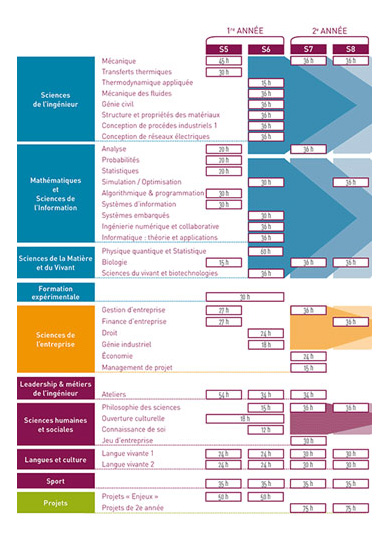 Contact
École Centrale Engineering Program Directorate
Secrétariat
Téléphone : +33 (0)1 41 13 14 66
Courriel : direction.etudes@ecp.fr
2nd year: semesters 7 and 8
Starting in the 2nd year, students choose elective courses to personalize their program in keeping with their career projects developed in the 1st year.
Differentiated syllabus in Semester 7
This syllabus offers students the opportunity of an initial customization of their program while still keeping a rounded generalized approach. The student can choose 5 elective courses from the 5 main fields of the course offering. The rule of choice guarantees the generalized approach of our program: students must choose up to three courses maximum per field proposed.
Students will also take compulsory classes:
Economics (24 hours)
Project Management (15 hours)
Professional Development and Leadership Workshop (34 hours)
Selection and Development of an Innovation project
Participation in Business Games
Two compulsory languages
Sport
Personalized syllabus in Semester 8
This offers the opportunity to build a personalized semester coherent with the career project of each student. It is possible to:
either complete the semester at CentraleSupélec,
or go abroad:

for an academic placement,
for a laboratory placement,
for an internship in a company.
Students completing their Semester 8 in CentraleSupélec must take five modules of their choice (with no restrictions on choice), language courses (Modern Languages 1 and 2) and sport. They must also complete an Innovation or Association project.
Students going abroad will be offered a wide range of choices by our universities and partner companies.
Contact
École Centrale Engineering Program Directorate
Secrétariat
Téléphone : +33 (0)1 41 13 14 66
Courriel : direction.etudes@ecp.fr
3rd year: in-depth and professionalization program
In order to satisfy the expectations and requirements of future employers as fully as possible, we have completely overhauled the content and objectives of the final academic year.
Having received much positive feedback from companies, we have successfully retained and reinforced our strengths while integrating major social evolutions to the professional program for this final year of the École Centrale Engineering program.
This last year of the École Centrale Engineering program enables students to:
study disciplines and methods in depth, develop skills from foundations learned in the 1st and 2nd years, and to put these into practice in internships, projects and case studies;
operationally prepare for their first professional position; and
receive the initial boost that will enable them to succeed throughout their career.
To satisfy this triple objective, the 3rd year is structured around:
 
Options to:

learn a scientific or technical field in more depth and provide useful skills to succeed in the downstream area of the option: industries and possibly specific tools/methods for practicing a subject in one of these industries;
place the student in situations close to the business world to enable them to affirm their technical and leadership/entrepreneurial/innovative skills.

Streams that:

help to give the student professional skills that will enable them to succeed in their future jobs by teaching them the necessary tools and methodologies;
place them in situations that are close to the business world to enable them to affirm their professional and innovational/entrepreneurial/leadership skills.
Each student independently chooses from a matrix organization, one stream (10 weeks) and one option (23 weeks) and thus completes a double program.
To satisfy this triple objective, the 3rd year is structured around:
One week on company operations and management
Organizational Human Sciences conferences
Exposure to companies through sponsorship programs
Teaching with close links to research laboratories
The opportunity to complete a research master's in a double program
A professionalizing end-of-studies internship that formalizes the student's study evolution
École Centrale Engineering program 3rd-year options: LIENS A VENIR FICHIERS PDF à télécharger
3rd year First Job stream
In the 3rd year, instead of the usual 3rd-year program, students can:
complete a double degree program with one of our academic partners or
join a major and minor option of the Supélec Engineering program, in the 3rd year, in Gif-sur-Yvette, Metz or Rennes.
Directors of options and streams
 
Contacts
École Centrale Engineering Program Directorate
Secrétariat
Téléphone : +33 (0)1 41 13 14 66
Courriel : direction.etudes@ecp.fr
Internships
Operator internship
The "operator internship" has always been a tradition at the École Centrale Paris and in the French industrial world.
This is a first experience of the non-specialized Engineering program that is completed within a company, over six consecutive weeks in summer.
The educational objectives of this internship have changed over time, from "worker" internship to "operator" internship to adapt to industrial evolutions:
Quality initiative
Multi-skilled teams
Specific skills
Increasing automation
Globalization, etc.
The school pays particular attention to these aspects during the preparation for internships (information provided to the whole year group and individual interviews), as well as during "experience feedback" days after the internship.
A selection of updated documents on production, organization and political and economic contexts is made available to students. The school wishes to facilitate opportunities for students in fields other than manufacturing, such as maintenance and logistics. Teaching evolutions take into consideration the new laws concerning internships and their supervision (August 2006) as well as the career direction needs of students and "experience feedback".
This enables students to apply what they have learned in 1st year courses and above all experience the technical, organizational and human complexities of the jobs that are central to the production process.
International internship
Each student completes a minimum six-month internship, preferably in Semester 8:
Academic exchange
With a partner school, in a field linked to the engineering program: Erasmus program (Europe), BCI program (Quebec universities), ESCP-Europe London, other programs: Australia, Brazil, China, United States, etc.
Laboratory internship
With an academic partner or company: students can take advantage of the research networks forged by the school's instructor-researchers all over the world.
Company internship
The school extends its network of international companies to students.
End-of-studies internship
A CentraleSupélec student in the École Centrale Engineering program will finish the program with a six-month external internship (in a company, laboratory, consultancy firm, etc.).
This internship is the completion of the student's engineering studies. Their internship objectives, supervision and duration all make this an exceptional learning experience, enabling the student to make the transition between student and professional life under the best conditions. Several years of experience have demonstrated the benefits of this internship, as students gain an in-depth understanding of the life of the company.
Furthermore, through its format, this internship is different from both national and international traditional internships in two ways:
By its length, which enables students to take up a position as an engineer with responsibility for a project. This is a condition highly valued by companies.
By its complementarity of supervision (options, streams, companies) and coaching support, enabling students to quickly integrate and optimize their performance in their project.
Over the course of the end-of-studies internship, the student must demonstrate the following qualities:
Ability to integrate within the company and adapt to the world of work
Ability to achieve concrete results to the company aligned with the objectives of the option and stream they have studied
Ability to evaluate their performance in terms of the teaching received at the school
These qualities will be assessed through three evaluations: intermediate activity reports, a final internship report and a presentation of the internship before a jury.
Intermediate activity reports
These are written during the internship and submitted to instructors (or coaches) of the student's option and stream. A total of four will be submitted, according to a set agenda: June 30, July 30 or August 30, September 30 and October 30.
The objective is to be able to assess the student's situation with regards the working environment and the internship objectives defined together with the company, aligned with their options and stream.
These intermediary reports are a way for the company tutor, the school and the student as he or she summarizes their internship activities, to monitor progress. They can therefore serve as an early warning signal in the event an internship is not progressing well.
Detailed information concerning these activity reports is available for students to read on the student website (www.etudes.ecp.fr).
These reports are required towards validation of streams.
Core program projects
The École Centrale Engineering program enables students to acquire and develop the ability to innovate, successfully lead change, and to address complex and interdisciplinary problems.
One of the main objectives is to place students in a concrete "action" situation in which they can successfully apply what they have learned. Students develop these qualities through projects, of which they must complete several throughout their academic program:
An Issues project (1st year)
An Innovation or Association project (2nd year)
An Option project (3rd year)
Each of these projects covers the following dimensions:
A client, either external (a "company" in the broad sense) or internal to the school (a research laboratory, a school department, etc.)
A relevant issue, requiring significant personal investment from students, with precise objectives and submissions instilling a culture of results in students
A multidisciplinary approach: representative of the reality of the professional world and demonstrating the links between different scientific and technical dimensions, but also economic, social, human, environmental legal and cultural dimensions
Work in teams: students can adopt various roles across projects, and teams can extend to students from other programs (design, business, etc.)
A combined acquisition of knowledge/know-how/soft skills
Possibilities for developing creativity and innovation
Coaching from supervisors
Evaluation by a professional, rigorous jury to assess student progress
With this way of working, students gain an understanding of the complexity or working in teams and creating value together.
VISUEL A8-A
Issues projects in the 1st year
From the beginning of the 1st year, student engineers begin a cycle of inaugural conferences on critical issues of the 21st century.
PHOTO A8.B
7 major themes are addressed
Energy: particularly price inflation and scarcity of fossil fuels
Environment: from the perspective, among others, of environmental balances
Health and biotechnology: the engineer at the heart of life sciences and health systems issues
Information and knowledge: the impact of information technologies and communication on the company and its organization
Community development: sustainable building; sustainable development is an essential component in construction, especially given new environmental standards
Transport and Mobility: globalization of trade and acceleration of modes of transport engender increasing demand for mobility
Economic change: "financialization" of economies, delocalization, fair trade, etc.
 
Following this first cycle of conferences, students choose one of the issues to study in more depth through:
dedicated conferences,
company visits,
a bibliographic study at the beginning of the project,
completion of a project proposed by a company.
The core objective of the Issues activity
To enable students to invest in their future as an engineer by addressing the major challenges of the 21st century. An integral part of shaping responsible and socially invested engineers, this activity is also their first experience of work in project mode, working in teams, developing a transversal approach to technical, economic, marketing and other problems and all in direct contact with companies.
Contact 
Director
Franck Richecoeur – franck.richecoeur@centralesupelec.fr
The Issues project
Working in project mode to produce a tangible result in response to client demand
Working in teams
Adopting a structured approach to resolving problems and project management
Innovation projects
The 2nd year projects are compulsory learning activities that are completed in teams. These equate to 360 hours of work per student, divided into three segments of 120 hours, one in Semester 7, two in Semester 8, and divided into Association projects and Innovation projects proposed by teaching departments.
A written report, oral presentation and end-of-semester grade contribute to the assessment of the project. Each teaching department will choose an exemplary project to present publicly at the Innovation Prize awards event.
PHOTO A8.C
The Innovation project helps student engineers to develop their innovation skills:
Through work experience in an engineering position to:

produce scientific knowledge (research),
develop products and techniques (development),
design products, services or organizations (design), or
implement structures or events (organization);

Through experience of work in project-mode to:

acquire autonomy in the global vision of a project and programming skills,
develop practical skills through concrete developments (prototypes, scientific results, models, events) and real relationships,
develop leadership and promote their ideas;

Through positioning and an innovative approach driven by ambition and a disciplinary openness requiring students to:

go beyond initial hypotheses to address issues inherent to the project;
demonstrate creativity and be motivated to change the system;
confront their ideas, drawing on knowledge and experience.
Projects are assessed on:
the rigor of the approach adopted in terms of project management, problem solving and exploration,
the quality of all submissions: the validity of results, their robustness and novelty in their field,
their interest and impact for the client (industrial or research) demonstrated by a file of proven value created for the client.
Director
Eléonore Mounoud -  eleonore.mounoud@ecp.fr
The Innovation project
Adopting an innovative approach driven by motivation and openness
Contributing new ideas in developing products, procedures, services and processes
Creating new ways to contribute to the performance and transformation of socio-economic systems
 
NEW BIZ FACTORY
The NewBiz Factory is an experimental program for students in their 2nd year, in association with companies, which was launched in 2016 in partnership with Oresys.
Benefits for students
A program with the objective of diffusing a culture of entrepreneurship among students
A new type of "company" project for students that enables them to experiment working in mixed teams (students engineers / students in the Centrale ESSEC Entrepreneurs stream) in start-up mode
Advantages for companies
Injects a culture of entrepreneurship in company employees
Utilizes methods employed by start-ups
Analyzes / assesses / promotes a portfolio of innovations through student collaboration
Submissions
Market analysis
Positioning
Design breakdown
Competition study
Link with other technologies
Maturity index
Business model
Recommendations to the company
and more
Association projects
 

Some association projects have precise criteria that align with the school's educational mission, and are validated as part of the 2nd year program.
Project teams are supervised by instructors or professionals, depending on the nature of the project, and are assessed and given a grade that contributes to their overall grade. Students are able to earn ECTS credits with this project.
This assessment is based on the quality of learning demonstrated, especially in how the student masters engineering methods and tools, ability to integrate within an organization, participating in its evolution, and ability to address economic and professional issues.
Cultural openness, the ability to seek external skills and demonstrate them, and respect of societal values and CentraleSupélec values, are also taken into account in the assessment.
Over the course of these large-scale projects, students work on projects they would face in companies. They work like a small company: objectives, human and financial resources, budget balance, meeting deadlines, contacts with suppliers, quality initiative, teamwork, risk analysis, crisis management, civil and criminal liability, etc. These provide students with complementary experiences beyond engineering scientific and technical skills.
Each year, between 10 and 15 projects completed by 100 to 120 students in teams of three to 20 people, with budgets ranging from €20,000 to more than €200,000, are validated in the course of the program.
Director
Géraldine Carbonel - geraldine.carbonel@centralesupelec.fr
Associative projects
Châtenay-Malabry campus is an educational environment and associative life participates, alongside other teaching activities in the École Centrale Engineering program, in acquiring interpersonal skills. Students adopt significant responsibility in the associations and exercise their potential in concrete situations, discover their talents and passions and test their commitment and contribution over time.
Through their commitment to associative life, students live an amazing human, personal and shared adventure, developing qualities they will need later on in managing teams.
Some examples of associative projects:
Option program projects
As the last step of this professionalization program, every 3rd year option offers students the chance to complete an Option project in their chosen field.
This project is completed from October through March, alongside science and technical courses, with the objective of successfully completing a technical or technical-economic study. Subjects are proposed by partners of the school, by instructor-researchers or by students themselves. Students are assessed on the quality of submissions to the company. Each project is supported by teaching resources, methodological resources for the organization and scientific and technical resources on the chosen subject.
This project, completed over approximately 100 hours, requires the student to draw on all the knowledge and skills they have gained, both scientific and behavioral, during their studies.
Double degrees, a complementary program
The school gives you a wide choice of double degrees that complement your generalized engineer program, enabling you to understand issues and themes on various levels of analysis or to specialize in a chosen field.
These double degree programs enable you to obtain two separate degrees.
Guillemette Breysse, Director of Double Degree Agreements, presents the advantages of this dual program.
Institution

Diploma

Candidacy Period

Length

ESSEC Business School

Grande École degree

1st year

3 semesters

ESCP Europe
 

Master in Management ESCP Europe

1st year

3 semesters

ENSCI Design

ENSCI Industrial Creator

End of 1st year

18 months

IEP Paris

IEP Master's degree

3rd year

2 years

Université Paris-Dauphine

Actuarial studies

3rd year

1 year

 

L3 Mathematics of Modeling and Decision-making.

Master's years 1 and 2 in Mathematics of Modeling and Decision-making

1st year

1 year

INSTN Atomic Engineering

Atomic Engineering Engineer

2nd year

3 semesters

IFP School
 

IFP School Engineer
 

End of 2nd year

End of 3rd year

2 years
1 year

Paris-Sud University
 

3rd year of degree: Fundamental Physics
M1 Fundamental Physics

Beginning of 1st year
Beginning of 2nd year

1 year
1 year

 

3rd year of degree: Fundamental Mathematics
1st year of Masters: Fundamental Mathematics

Beginning of 1st year
Beginning of 2nd year

1 year
1 year

Medicine / Dentistry / Pharmacy

Medical, dentistry and pharmacy program

3rd year
 

Variable according to specialization

Politecnico di Milano

Architectural Engineer

3rd year

2 years

Paris-Sorbonne University

3rd year of professional degree: Territorial and Urban Planning

Beginning of 1st year

1 year

 

3rd year of degree: Philosophy

Beginning of 1st year

1 year

IFSBM/Paris-Sud University
 

University Diploma in Biomedical specialization

Beginning of 2nd year
 

1 year
 
Watch an interview with Guillemette Breysse : https://www.youtube.com/watch?v=VHY8r53uTwI
N.B.: Each agreement has specific conditions (access routes, duration, etc.).
Contact
Dual degree
École Centrale Engineering Program Directorate- guillemette.breysse@centralesupelec.fr
Career opportunities
École Centrale Engineering program graduates go on to be recruited in all sectors and professional positions: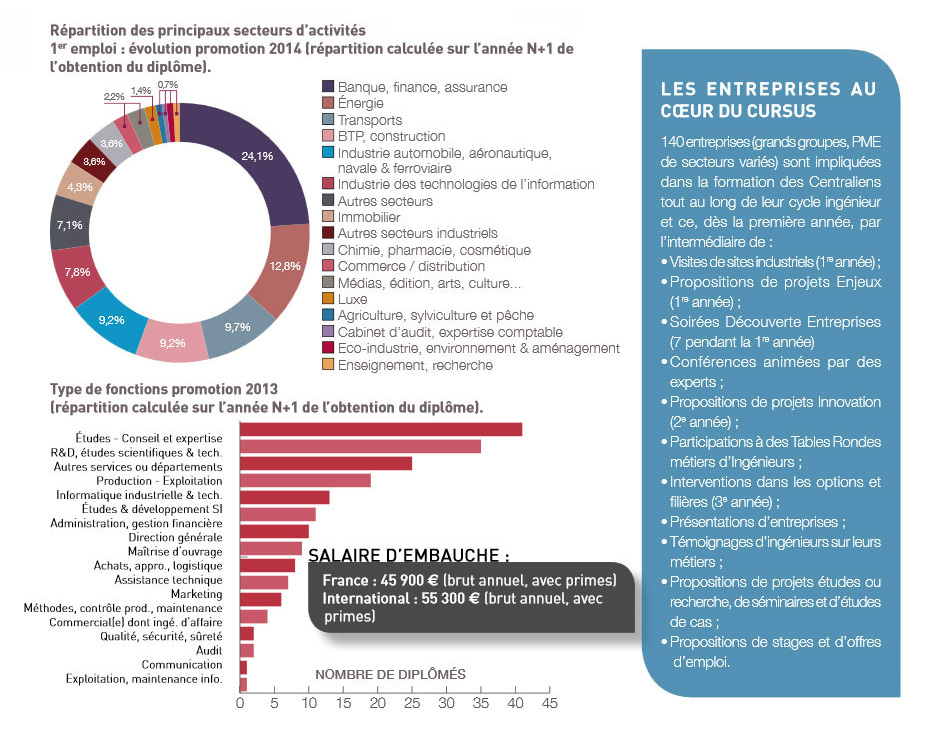 Tuition fees and budget outline
Budget outline for an engineering student for 2016-2017
Tuition fees Yr1, Yr2, Yr3 at CentraleSupélec - Châtenay-Malabry Campus
 
| | | | | |
| --- | --- | --- | --- | --- |
|   | Non-bursary student | Means-tested grant recipient | French government grant recipient | CSC |
| Tuition fees Class of 2019 and 2018 | €2,200 | exempt | exempt | exempt |
| Tuition fees (ministerial ruling) Class of 2017 and previous year groups | €610* | exempt | exempt | exempt |
| Student social security | €215* | exempt | exempt | exempt |
| ISIC card (optional) | €5 | €5 | €5 | €5 |
| Preventive medicine | €5.10* | €5.10 | €5.10 | €5.10 |
*  These amounts will be made available at the beginning of July
Gap year tuition fees – optional internship, CEPOC 3A except for CentraleSupélec - Châtenay-Malabry campus
 
 

Non-bursary student

Means-tested grant recipient

French government grant recipient

CSC

Tuition fees (ministerial ruling)
Class of 2017 and previous year groups

€610*
2015/2016 amount

exempt

exempt

exempt

Student social security

€215*
2015/2016 amount

exempt

exempt

exempt

ISIC card (optional)

5 €

€5

€5

€5

Preventive medicine

€5.10*

€5.10

€5.10

€5.10
* ces montants seront connus début juillet
Other costs
Health insurance
| | |
| --- | --- |
| LMDE Centre 601 (100% reimbursement)* | €252 |
| SMEREP Centre 617 (100% reimbursement)** | €330 |
Cost of class copies (sold in the Emergency Fund)
Variable according to year, options and disciplines, approximately: €365 in the 1st year, €100 in the 2nd year and €50-€200 in the 3rd year according to option and track
Accommodation
 
| | |
| --- | --- |
| Accommodation in Résidence des Élèves (guide prices as of January 2013) |   |
| 2-bed bedroom – 17 m² | €270.30/month charges inclusive |
| Private bedroom – 14 m² | €407/month charges inclusive |
| Studio for married students – 27 m² | €515/month charges inclusive |
| Accommodation in Vincent Fayot CROUS Residence – Châtenay-Malabry |   |
| 1-bed bedroom – 9 m² | €154.20/month charges inclusive |
| Accommodation in Saints-Sauveurs CROUS Residence – Fontenay aux Roses |   |
| 1 room, 14.5m² - 24 m² | €321.50 - €404.90/month charges inclusive |
| Accommodation in Louise Bourgeois CROUS Residence – Antony |   |
| 1 room - studio | €420 - €537/month charges inclusive |
| Accommodation in Olympe de Gouges CROUS Residence – Fontenay-aux-Roses |   |
| 1 room, 16 m² - 25 m² | €436 - €537/month charges inclusive |
Photocopy card (sold in the library)
| | |
| --- | --- |
| 50 copies | €5 |
| 100 copies | €8 |
CROUS restaurant
| | |
| --- | --- |
| University restaurant (guide price for 2015/2016 academic year) | €3.25 per meal |
Financial aid
CROUS
Means-tested grants ranging from €1,008 to €5,545 (2015/2016 amounts)
Merit-based aid
International mobility aid
FNAU: National Emergency Aid Fund
French government grants (for foreign students)
CROUS social services. See site: www.crous-versailles.fr
FAMILY ALLOWANCE FUND (CAF)
CENTRALE PARIS DEVELOPMENT
Scholarships
Interest-free loans
Bank loan guarantees
Contact : fondation@centralesupelec.fr
EMERGENCY FUNDS