MSc in Data Sciences and Business Analytics (with ESSEC Business School)
Overview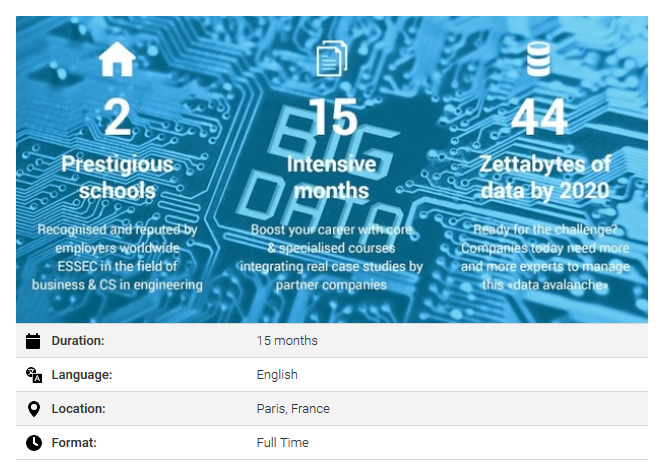 Rewatch below presentation of MSc with Nikos Paragios and Guillaume Chevillon, heads of program.
Courses
Period 1 - September to December
During period 1 you will receive "refresher courses" and core courses. The refresher courses - taken in September - are courses geared at bringing everybody up to the knowledge level needed for the rest of the program. Core courses, or fundamentals, cover the basis for your specialization further on in the year. Between October and the end of December you will have six coure courses. Both the refresher courses as the core courses can take place on both campuses: on the ESSEC Business School campus in Cergy or the Centrale Supélec campus in Saclay.
Period 2 - January to June
During period 2, you will pick a minimum of 6 courses out of 16 electives to choose from. 8 of these electives are taught at the Saclay campus of CentraleSupélec and focus on Data Sciences, and the other 8 are taught at the Cergy campus of ESSEC Business School and focus on Business Analytics. You have to choose a minimum of 2 electives in either direction/either campus. The rest is up to you. In order to Major in either Data Sciences or Business Analytics, you would have to validate a minimum of 4 courses in that direction.
Next to that, period 2 is also the timeframe for the International Field Trip. 
Watch below courses 'Nearest Neighbors Algorithms in Euclidean and Metric Spaces.'
;
Period 3 - From July
During the final phase of the program you will do an internship and write your thesis. The internship can take anywhere between 4 to 6 months and allows you to put your newly acquired skills and knowledge to the test.
Compulsory foundation courses
From October to December, you will attend six core courses:
Courses offered at the 
ESSEC Business School Campus

Courses offered at the
CentraleSupélec Campus

Big data analytics

This course will develop your analytical problem-solving skills and present you with the statistical methods needed to analyse and leverage multidimensional data. 

Continuous & Discrete Optimization

Programming exercsises are covered in this course as well as the basic theory and methods for the solution of optimization problems, and lineair and non-lineair programming.

Forecasting & Predictive Analytics

This course develops your judgement and critical sense in order to be able to produce and evaluate operational forecasts, and understand how it all can go wrong.

Big Data Algorithms, Techniques & Platforms

This course will teach you all about big data management - algorithms , techniques and tools needed to support big data processing.

Strategic Business Analytics

This course will teach you to design, assess and manage business strategies and how to use quantitative techniques in a strategic consulting approach through real life case studies.

Machine learning

This course will give the opportunity to apply the course theory to real-world problems through group lab projects with a particular focus on statistical risk and its minimisation with respect to prediction function.
 See below an example class of our course in Machine Learning by Chloé-Agathe Azencott.
Specialised track courses
From January to June, you may choose 6 elective courses from a list of 16 courses offered. 8 of these course specialise in Data Sciences and are offered at the CentraleSupélec Campus. The other 8 electives specialise in Business Analytics and are offered at the ESSEC Business School Campus. Depending on your profile and career plans, you will be able to choose to specialise in either business analytics or data sciences, or to have a more general understanding of the two directions.
For a detailed explanation of each of the electives offered at the campuses, please have a look at our brochure. 
Learning by doing
The Data Sciences & Business Analytics program is built on the premise of learning by doing. That is to say, we don't want you to just theorize about your chosen field of expertise, but to experience it and to delve into the complexities of business life in the real world. That is why, all students will go an international field trip, do an intership and write an academic dissertation.
Your Internship, with a duration of 4 to 6 months, can take place anywhere in the worlds and is designed to facilitate students' professional integration. Through the developed network of ESSEC and of CentraleSupélec's partnering firms, institutions and alumni, you are sure to easily find an internship that suits your career ambitions.
The Thesis is an individual research that you carry out on a cutting-edge topic related to data sciences and/or business analytics. It will be a great way for you to combine your built-up expertise with an inquisitve mindset and real-world data. The objective for you is to experience a first complete and original applied theoretical research experience. 
Finally, the International Field Trip is a one-week trip to meet local professionals and business leaders all over the world. You may travel to Hong-Kong, Silicon Valley, etc.
Admission
Do I have the profile that fits?
have you graduated or will soon graduate from a top university/school with a strong degree (Bachelor/M1) in engineering, mathematics, statistics, business, economics, etc.?
do you have little or no graduate work experience?
do you have a good level of English and are wanting to study entirely in English in France?
are you looking to combine technical and managerial skills to become an expert and a leader?
are you a problem solver? intrigued by big data?
The application deadlines
 

Online application
closing date

Final admission
results

Round 1

October 24th, 2016

November 30th, 2016

Round 2

January 4th, 2017

February 23rd, 2017

Round 3

February 23rd, 2017

April 7th, 2017

Round 4

April 3rd, 2017

May 12th, 2017

Round 5

June 6th, 2017

June 20th, 2017
STEP 1: Prepare the tests
As part of the application file, you will need to provide:
a management aptitude test: GMAT, tage-mage or GRE
an English proficiency test*: TOEIC (minimum score of 850), IELTS (6.5), TOEFL (90)
These can take several months to prepare and to register for an exam slot, so keep this in mind before starting your application as without these test scores, it will be incomplete.
* The English test is not required if the candidate is a native English speaker or has spent the last 3 years in an English speaking university.
STEP 2: Start your online application
The application form is to be filled in online. Create your account then you will receive an e-mail with your login and pin number. These are required each time you sign in so don't lose these! You can fill in the application form at your ease and come back to it at any point.
STEP 3: Upload your supporting documents
Together with the online application form, you will need to provide official or authenticated copies of the following:
your academic transcripts of each year of university
your degree certificate or an attendance certificate if you are still studying
your CV
a motivation letter (1 page max)
your passport or ID card
a recent ID photo
your English test score if applicable: TOEIC,  TOEFL or IELTS
your management aptitude test score: GMAT, GRE or Tage Mage
the €75 application fee, payable online & non-refundable
2 recommendation letters which should be sent directly to the admissions team by your references (admissions-mscs@essec.edu)
All documents must be provided in English or French. Official translations will also have to be provided for documents in other languages.
Please note that incomplete applications will not be studied. All the documents required must be provided on time (before the AOL deadline).
STEP 4: Submit your application
Once you have completed your online application and have attached all the supporting documents, the final step is to submit your online application.
Please keep in mind that there are 5 rounds of admissions. The deadlines to submit your application are listed in the table above.
STEP 5: Get your results
Your application will then be fully studied by the Directors of the programme and an admissions committee. Results will be published online in your application summary.
Results will be announced on the dates communicated in the table at the top of this page.
If you have been successful, you will then be contacted by a member of the admissions team who will tell you how to go about confirming your place in the programme.
Faculty
HEAD
Guillaume Chevillon, Professor of Econometrics and Statistics at ESSEC Business School & Nikos Paragios, Professor of Applied Mathematics at CentraleSupélec - co-directors of MSc in Data science and Business Analytics Centrale-ESSEC. 
PROFESSORS
Chloe-Agathe Azencott : Research Faculty, Mines ParisTech & Institut Curie.
Cazals, Frédéric : Affiliated Professor at the department of applied mathematics of CentraleSupélec & Inria Permanent Researcher
Glady Nicolas : Associate Professor, Accenture Strategic Business Analytics Chair holder, and Director of the Center for Digital Business of ESSEC
  Felix Papier : Associate Professor, Operation Management Department, ESSEC Business School
Paragios, Nikos : Professor at the department of applied mathematics of CentraleSupélec and affiliated research scientist at Inria and senior fellow of the Institut Universitaire de France
Pesquet, Jean-Christophe: Affiliated Professor at the department of applied mathematics of CentraleSupélec & Full of professor at the department of computer science of the University of Paris-East
Prat Nicolas : Associate Professor, Information Systems, Decision Sciences and Statistics (IDS) Department, ESSEC Business School
Rombouts Jeroen : Professor, Information Systems, Decision Sciences and Statistics (IDS) Department, ESSEC Business School
Kevin Bretonnel Cohen, American PhD from CU Boulder Director, Biomedical Text Mining Group Computational Bioscience Program University of Colorado School of Medicine
Arnaud De Bruyn, Belgian Ph.D. in Business Administration, Pennsylvania State University (USA) Professor, Marketing Department, ESSEC Business School.
Marie Kratz French, Doctorate in Applied Mathematics, UPMC Paris VI (France) Professor, Information Systems, Decision
Sciences and Statistics Department, ESSEC Business School.
Frédéric Pascal, French Ph.D. in Signal Processing, Université Paris-Ouest Nanterre-La-Défense (France) Professor, Applied Mathematics Department, CentraleSupélec
Career
At the end of the program, the students will have been developing their skills to become Data Scientists or Business Analytics Experts. From San Francisco to Tel Aviv, places of IT offer their best jobs for data scientists. Data science impacts a wide range of spheres from health care industry to business to engineering companies. International companies like Google, Microsoft or Amazon and startups like Snapchat Waze or Uber are hiring data scientists.
In contrast, business analytics experts focus more on the strategic aspects of the business and may also undertake careers in consulting firms, the financial sector, the pharmaceutical industry, telecommunications, retailing and fast moving consumer goods companies and in web analytics or digital companies as well. In any case, this program prepares students to meet the growing demand in every industry for data-driven leadership or to engage entrepreneurship.
Graduated can also take fully advantage of an 50,000 international Alumni network (from CentraleSupelec) and 47,000 from ESSEC!
 HIGH LEVEL POSITIONS IN A WIDE RANGE OF SPHERES ANYWHERE IN THE WORLD:
• Management Consulting
• Insurance
• Finance
• Audit
• Healthcare & Biotech
• Consumer Goods
• e-Commerce
• e-Business
• Internet pure-players
• Media & IT
• Automotive industries
• Electronics
• Public Sector
• Retail
• Manufacturing
RECRUTING COMPANIES:
• Accenture
• AXA
• Bain & Company
• BNP Paribas
• Crédit Agricole
• Deloitte
• Ekimetrics
• EY
• Google
• Pierre Fabre
• Mars Incorporated
• Mazars
• Orange
• PwC
• Renault
• Sagemcom
• Société Générale
• Thales
• And many more…
Financing
Tuition fees
€20,000, including deposit*.
Tuition can be paid each year in 2 equal installments in August & October.
*Kindly note that the fees indicated are for the current year and may be subject to change the next academic year.
Other fees
Application fees: €75 
Deposit: €2,000
This is non-refundable and is to be paid upon registration. The amount is then deducted from your tuition fees.
Bank loans
As a CentraleSupélec/ESSEC student, you can take out a preferential rate bank loan with the Cergy branch of LCL (Le crédit lyonnais), which covers full tuition and is repaid starting at the end of your first year of work.
Loan applicants are required to have a guarantor living in France. According to the banks, the guarantor must earn enough to cover the monthly loan payments but also either be a French citizen, a close family member and/or both. Additional fees and expenses will be the responsibility of the student.
FAQ
Applying & prerequisites
What is the most important thing to get across in my application?
There is no interview for this program so applications are evaluated on the basis of your motivation letter, recommendation letters and academic results. Your motivation letter is key. We are looking for people who are consistent, have vision and are highly motivated. You should be able to demonstrate why this program is the best solution for you and how this is the conclusion of the path you have taken until now. We are looking for exceptional candidates who have at some point taken their lives into their hands, gone off track maybe and either done or tried to do something great.
What level of English do I need to have?
This is an international program and all the courses are taught in English. You need to be able to follow courses and feel at ease to work on case studies with your classmates who come from all over the world. A standardised English test is required of non-natives as part of the application. This is one of many aspects that we take into account in making our decisions.
Career prospects
What is the difference between a business analytics expert and a data scientist?
This is actually 2 different angles of the same thing and it depends on what focus you want. Is it computer science or business applications? A basic way of explaining the difference is that companies need someone to come with the problem (business analyst) and then someone to solve the problem (data scientist). These 2 actually need to work together and be complimentary.
Where can I find a job after graduating? Mainly in France?
There are job opportunities everywhere in the world. You are able to stay in France afterwards but also move internationally. More and more students are finding jobs in the best companies abroad and travel a lot for work. There are also more and more startups coming out of the degree.
Course content
How is the program organised? Do you spend time on both campuses?
You will start with the foundations to cover the necessary core skills in the first part of the program before going into more detail with one of two specialised tracks. For the autumn semester (3 months), you will spend time on both campuses, 1 day at CentraleSupélec, 1 day at ESSEC. In the spring semester, you will then choose to focus on your major, from either a business analytics track at ESSEC or a data science track at ECS. Finally in the final semester, you will follow excellence courses on specialised trending topics.
What makes the course content innovative?
You will be able to enjoy not only excellent academic teaching from some of the best research faculty in the world but also practical hands-on experience with case studies set by leading industry practitioners and experts in the field brought by our strong partnerships. The program has been developed based on the latest scientific solutions. While the foundation courses cover all the necessary information including a background history, the excellence courses then focus on the hottest trends of the moment. The course material is recent and constantly updated.
Regarding the internship, what is the maximum duration I can do one? Do you have any examples of where prior students did theirs?
There are no prestigious companies where our students aren't employed! These could be in consulting, investment banking, engineering etc. at for example Accenture, BCG, GoldmanSachs, AirBnB or you can launch your own start up.