CentraleSupélec is an internationally-reputed Higher Education and Research Institution. Its excellence lies in its combination of fundamental and applied sciences for innovation with societal impact. For almost two centuries, CentraleSupélec's top engineers have been practicing their skills and knowledge for the development of corporate institutions and public organizations.
MSc in Data Sciences and Business Analytics (with ESSEC Business School)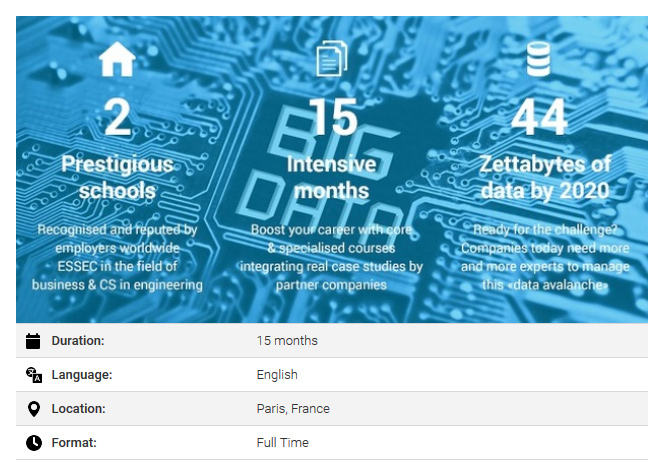 Admission
Do I have the profile that fits?
have you graduated or will soon graduate from a top university/school with a strong degree (Bachelor/M1) in engineering, mathematics, statistics, business, economics, etc.?

do you have little or no graduate work experience?

do you have a good level of English and are wanting to study entirely in English in France?

are you looking to combine technical and managerial skills to become an expert and a leader?

are you a problem solver? intrigued by big data?
The application deadlines

STEP 1 : Prepare the tests
As part of the application file, you will need to provide:
a management aptitude test: GMAT, tage-mage or GRE

an English proficiency test*: TOEIC (minimum score of 850), IELTS (6.5), TOEFL (90)
These can take several months to prepare and to register for an exam slot, so keep this in mind before starting your application as without these test scores, it will be incomplete.
* The English test is not required if the candidate is a native English speaker or has spent the last 3 years in an English speaking university.
STEP 2 : Start your online application
The application form is to be filled in online. Create your account then you will receive an e-mail with your login and pin number. These are required each time you sign in so don't lose these! You can fill in the application form at your ease and come back to it at any point.
STEP 3 : Upload your supporting documents
Together with the online application form, you will need to provide official or authenticated copies of the following:
your academic transcripts of each year of university

your degree certificate or an attendance certificate if you are still studying

your CV

a motivation letter (1 page max)

your passport or ID card

a recent ID photo

your English test score if applicable: TOEIC,  TOEFL or IELTS

your management aptitude test score: GMAT, GRE or Tage Mage

the €75 application fee, payable online & non-refundable

2 recommendation letters which should be sent directly to the admissions team by your references (admissions-mscs@essec.edu)
All documents must be provided in English or French. Official translations will also have to be provided for documents in other languages.
Please note that incomplete applications will not be studied. All the documents required must be provided on time (before the AOL deadline).
STEP 4 : Submit your application
Once you have completed your online application and have attached all the supporting documents, the final step is to submit your online application. Please keep in mind that there are 4 rounds of admissions. The deadlines to submit your application are the following:
 Round 1: October 23rd, 2017
Round 2: January 4th, 2018
Round 3: February 19th, 2018
Round 4: April 12th, 2018
STEP 5 : Get your results
Your application will then be fully studied by the Directors of the programme and an admissions committee. Results will be published online in your application summary.
Results will be announced on the following dates:
Round 1:  November 30th, 2017
Round 2:  February 13th, 2018
Round 3:  April 12th, 2018
Round 4:  June 7th, 2018
Contact
Financing
Tuition fees
€20,000, including deposit*.
Tuition can be paid each year in 2 equal installments in August & October.
*Kindly note that the fees indicated are for the current year and may be subject to change the next academic year.
Other fees
Application fees: €75 
Deposit: €2,000
This is non-refundable and is to be paid upon registration. The amount is then deducted from your tuition fees.