Overview
The newly created Bachelor of Global Engineering is a joint undergraduate program between CentraleSupélec and McGill University's Faculty of Engineering.
Over the course of four years, an international cohort will study an intensive and multidisciplinary engineering curriculum taught in English within a French-speaking culture. Students spend two years at CentraleSupélec, where they follow a common curriculum and benefit from the French excellence in mathematics and science within a Grande École. They then spend two years at McGill, specializing in one of the 9 streams offered as part of the program. This new joint program aims at tackling the challenges of the modern world: environmental, societal, and corporate challenges. The curriculum mixes the best of the two systems, develops scientific excellence and best practices for global engineering (in both the multicultural and multidisciplinary sense).
Beyond the strong curriculum, students will enjoy two very different campuses. CentraleSupélec is just 20km away from Paris, in the heart of the "French Silicon Valley," and the campus hosts numerous sport facilities and student clubs. McGill is in heart of downtown Montreal, one of the most multicultural and vibrant cities in the world.
Upon graduation, students will have the opportunity to join industry, in a broad spectrum of capacities (by working for consulting or engineering firms, or as an entrepreneur), or to continue their studies at the master's level in France, Canada, or anyother top university.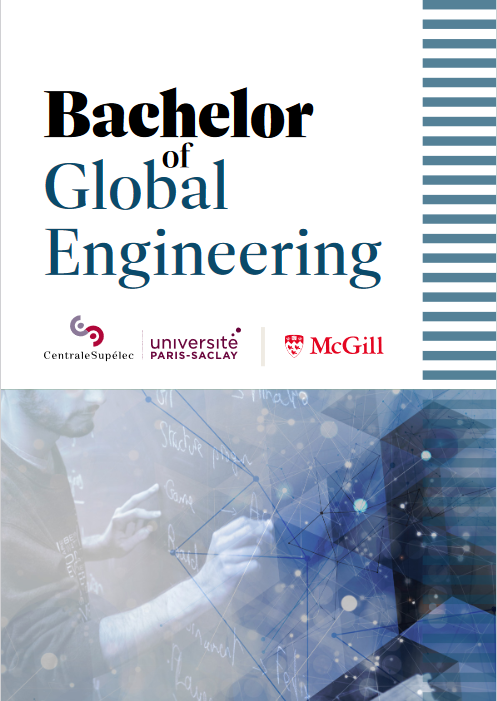 Bachelor of Global Engineering Flyer
Spirit of the program
This new Bachelor aims at reinventing undergraduate engineering programs. It was created around a strong set core of values: excellence, multiculturalism, and sustainable, social and corporate impact.
We summarize the spirit of the training offered by the Global Bachelor of Engineering with the word "global." On the one hand, it involves exposing young people to different cultures, through the international cohort and through the two countries visited. On the other hand, it involves training engineers with a strong multi and interdisciplinary core training, by exposing them to today's engineering and corporate challenges, with a specialization in one of 9 important streams.
This program was designed for a fast-changing world, to address corporations' needs for engineers, and to train future leaders. Over and above a classic engineering curriculum, students will develop and further study relevant issues and develop critical skills during the four years, including  climate change, new technologies, digitalization and programming, innovation, complex problem solving, team work, interculturality, communication, corporate behaviour, and analytical capabilities.
After graduation
Given that no student  has yet graduated from the program, we cannot provide data on future career paths of the program's graduates. Based on statistics of McGill graduates, 60% continue their studies beyond the bachelor's degree. They will be competitive candidate for admission to the best masters programs around the world, in engineering, as well as other disciplines. Of course, graduates of the program will be able to apply to graduate school at McGill or in accelerated tracks at French engineering schools, including CentraleSupélec. Students in the program will graduate with 240 European Credits (ECTS), recognized all around Europe, allowing them to pursue masters in M1 or in certain cases directly M2.
The program was designed to address companies' needs in the context of globalization. Graduates from the program thus will be readily accepted into companies in France, in Canada, but also around the world, from start-ups to  multinationals, as well as companies in between .
CentraleSupélec
The legacy of French scientific excellence
Our vision is for our graduates to be capable of synthesizing scientific excellence, technical expertise and openness to generate new solutions and effect change.
International students represent 26% of the entire student body.
2nd national ranking Le Figaro
3rd national ranking L'Etudiant (2022)
 
Université Paris-Saclay:
• 16th worldwide;
• 1st worldwide in Mathematics & 9th worldwide in Physics ARWU (2021)
McGill
A pioneer of international and Canadian research
McGill University embraces the principles of academic freedom, integrity, responsibility, equity, and inclusiveness.
Mission: The advancement of learning and the creation and dissemination of knowledge by offering the best possible education, by carrying our research and scholarly activities judged to be excellent by the highest international standards, and by providing service to society.
International students represent 30% of the entire student body.
Ranking: 1st Canadian university, QS (2023)
Why CentraleSupélec?
CentraleSupélec has historically strong ties to business and industry, as well as a solid career track. The school presents itself as a pioneer and a leader in engineering in France and in Europe, and the Global Bachelor is only one of many examples. Coming to CentraleSupélec is choosing to live on a stimulating, large, and calm campus not far from Paris.
CentraleSupélec is a founding member of the Université Paris-Saclay. It brings together some of the best  French Higher Education institutions, alongside many companies and public research centers, in order to create the "French Silicon Valley." Today, Université Paris-Saclay is ranked 16th worldwide (QS ranking, 2022), being 1st in mathematics and top 50 in 10 topics
Why McGill?
McGill's campus is in the heart of Montreal and embodies the "global" aspect of the program. Students will benefit from a multicultural and bilingual city, and enjoy a place in which it is esay to live, alongside a top-notch culture and nightlife. During the two years at McGill, students will be among the 40,000 students majoring in any topic, from business, to pure mathematics, including engineering, politics, medicine, or languages.
McGill undergraduates have the highest average entering grades of any Canadian university. McGill is always ranked in the top 3 nationwide, and this will make you part of a stimulating community seeking excellence, where you will be able to benefit from McGill expertise to major and subsequently be ready to enter the corporate world or continue your studies.
Why the Bachelor of Global Engineering?
This program represents the best of these two top universities worldwide, while benefiting from a completely remastered pedagogy and spirit. Beyond the excellence of the curriculum, graduates of this program will have the tools to face the most burning challenges of both today and tomorrow, and will be ready to have be impactful within companies, while being aware of sustainability and social challenges. Faculties, politics and key players in the industry are pushing for this Bachelor, for a new program that trains well-rounded engineers, with an international exposure.
During the two first years students, will build a strong scientific core, benefiting from the French reputation and rigor, in a "classes préparatoires" mode and on campus. Then during the two final years, students will follow existing classes at McGill, benefiting from the experience of the institution with well-constructed streams. Students will not  choose a major until the third year.