Admission
ADMISSION
Do I have the profile that fits?
have you graduated or will soon graduate from a top university/school with a strong degree (Bachelor/M1) in engineering, mathematics, statistics, business, economics, etc.?

do you have little or no graduate work experience?

do you have a good level of English and are wanting to study entirely in English in France?

are you looking to combine technical and managerial skills to become an expert and a leader?

are you a problem solver? intrigued by big data?
The application deadlines
Round 1 : Oct 22th, 2019
Round 2 : To be confrmed
Round 3 : To be confrmed
Round 4 : To be confrmed
 
STEP 1 : Prepare the tests
You will need to provide:
1 Aptitude test score
1 English test score - exempted if native-speaker or have spent last 3 years in a 100% English speaking university: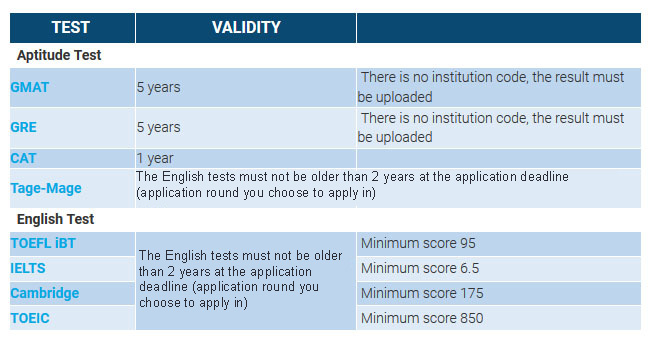 These can take several months to prepare and to register for an exam slot. Keep this in mind before starting your application as without these test scores it will be incomplete.
STEP 2 : Start your online application
The application form is to be filled in online. Create your account and you will receive an e-mail with your login and pin number. These are required each time you sign in, so keep them safe! You can fill in the application form at your own pace and come back to it at any point.
You are allowed to fill in only one application per academic year.
 
STEP 3 : Upload your supporting documents
A complete application file includes the following items. Incomplete application will not be processed.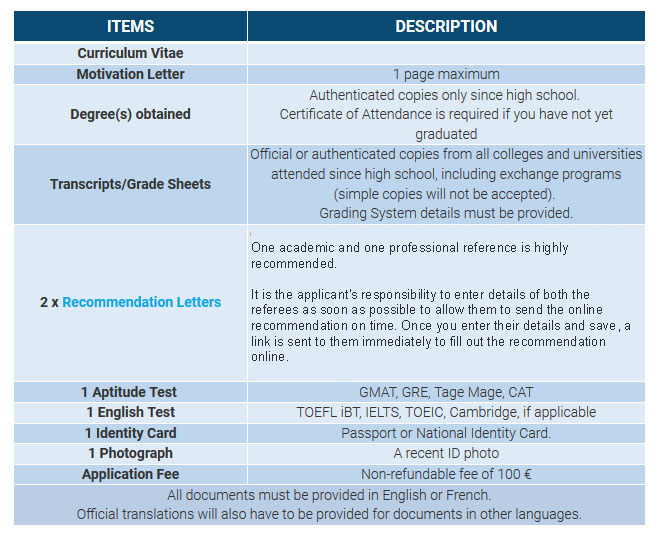 STEP 4 : Submit your application
Once you have completed your online application and have attached all the supporting documents, the final step is to submit your online application.
Please keep in mind that there are several rounds of admissions. The deadlines to submit your application are listed in the table above.
STEP 5: Get your results
Your application will then be fully studied by the Academic Directors and an admissions committee. Results will be published online in your application summary.
Results will be announced on the dates communicated in the table at the top of this page.
If you have been successful, you will then be contacted by a member of the admissions team who will tell you how to go about confirming your place in the programme. 
STEP 6: Secure your seat
Soon after your acceptance confirm your place by paying the 3,500 EUR non-refundable deposit.
This amount will be deducted from your tuition fee. 
Welcome to ESSEC & Centrale Supélec!
Financing
FINANCING
Application fee
In France: €100
Tuition fees