The Open Innovation Institute
The Open Innovation Institute is a CentraleSupélec program.
The aim of the Institute is to develop sustainable, constructive and balanced relationships between large accounts and start-ups. IOI activities are divided into three areas:
Deploying a methodology of innovative business acceleration with its founding corporate members (Altran, Mazars, Société Générale and VINCI) and partners (Axa Global Direct and UP Group)
Developing training programs for start-ups and large accounts
Conducting studies and research on open innovation and relationships between large accounts and start-ups.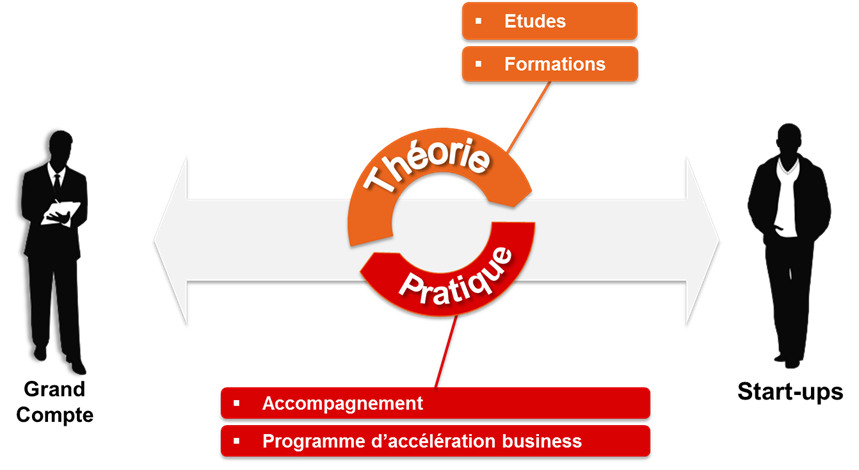 The Offering
The Open Innovation Institute offers a project that provides a bridge between theory and reality.
Institute teams support their partners in their transformation into an innovative organization through a program of collaboration with start-ups.
Our collaborative ecosystem:
What is the difference between an incubator and our business accelerators?
focused on the physical aspects and basic services offered to start-ups in their first stages.
Business accelerator: focused on business development and innovation processes, providing convergence processes for a start-up and large account (large company/middle-market company).

The Open Innovation Institute provides training modules to its members and start-ups committed to its accelerators, in order to help them in their transformation and collaboration.
These training programs are offered on four main themes, taught in adapted formats.
Start-up Culture
Large Accounts Culture
The Large Accounts training program aims to raise awareness in start-ups involved in Open Innovation Institute business accelerators about the logic and environment of large accounts with which they wish to forge sustainable and reciprocally beneficial relationships. This program covers the theoretical aspects of this constantly changing world (knowledge of multi-divisional organizations, understanding the open innovation logic of large accounts, key account management techniques adapted to the issues concerning open innovation). It also aims to place participants in action mode to guide them in their approach to this relationship by better defining their objectives, their strengths and the areas they must reinforce to optimize their chances of success.
Open Innovation in a Digital World: Latest Trends in Innovation Management
More than ever, it is a question of survival to do more and more with less and less. (Open) innovation is the Darwinian response to environmental changes, not just hype. In the conference, we propose to get an overview of recent relevant practices in terms of innovation management and tools – particularly digital tools. Most recent topics that might be covered: Context Change: open Innovation in a digital world; Innovation: towards dynamic organization; Towards the uberization of talent.
Open Innovation and Intellectual Property
The "Intellectual Property – Business Secrets" program directed by Anne Bourdu, an attorney associated with the LEXT law office, aims to give a global vision of the rules governing protection and use (i) of creations, whether they are artistic or inventive, created by one or several people, and (ii) of company business secrets and know-how. The objective is to give people completing this program some avenues of exploration in order to understand the main issues surrounding the laws and regulations applicable to intangible property, using concrete examples.
Start-up Equity
The "start-up equity" program aims to teach the basics of capital investment in start-ups, particularly a corporate venture combined with an Open Innovation strategy. After providing a perspective of French "venture" within the various categories of international asset management, the different aspects of investment are studied: developing a venture team, operational formats, regulations, tax, and then the investment itself: selection criteria, investment process, contractual formalities, outflows, etc.
Rapid Innovation Design
A methodology of radical innovation that has evolved through use and necessity: Radical Innovation Design®, was developed by Bernard Yannou to explore and organize growth areas in a structured way from users who are dissatisfied or in "uncomfortable" situations. It can be summarized as "Finding an unresolved problem, an unsatisfactory use or practice, investigating and providing a value-creating solution!"
The Open Innovation Institute conducts empirical studies of the best international practices in the relationships between start-ups and large companies in a context of Open Innovations.
Published studies:
"Embracing Open Innovation".
This study treats the historical foundations of open innovation, describes the issues and benefits of embracing it and offers an overview of the strategies for adopting this approach.
This document is aimed at company executives, start-up managers, researchers and students. By reading it, they can better understand Open Innovation, grasp the difficulties and understand the systemic impacts. Available in French and English.
Contact
If you would like to contact our team, please complete the following form by clicking here. Or:
Tel.: +33 (0)6 12 91 53 96